Social Justice for Language Education: Interpreting social justice in various educational contexts
Julkaistu: 6. lokakuuta 2021 | Kirjoittanut: Paiwei Qin ja Magdalini Liontou
In June 2021, the Language Campus of the University of Jyväskylä, Finland, held an international conference Language Education for Social Justice. It virtually gathered nearly 240 teachers, researchers, education authorities and experts from organisations around the world to share and discuss various social justice issues concerning language and education. The conference focused on the following questions:
How can language education be a space where students and teachers learn together to see and challenge existing patterns of privilege and injustice?

What is needed to support teachers in promoting linguistic and cultural equity and equip them to support each other in developing respective pedagogies?

How can research look at and beyond language in education with the goal of being a catalyst for critical thinking, democracy, equity, and peace?

How can language education and research support, respect, and better understand each other with the goal of making language education more equal and accessible for all learners?

How can both education and research turn a critical eye on themselves to recognize their complicity in perpetuating injustices – and learn to do better?
Having the 2021 LESJ conference as a starting point, we have created this theme issue in order to promote multiple experiences, observations, reflections, and solutions that aim to respond to the challenges faced by marginalised groups in education across diverse contexts, such as Finland, the United States and Germany. Nine articles, written either in English and Estonian or in Finnish, discuss the topics of multilingual pedagogy, critical content-based instruction, race, language minorities, immigrant students, special education etc. We wish that this theme issue will provide stimulating articles which will encourage professional communities to ponder issues of social justice in language education.
Articles in this special issue
Initially, we would like to invite readers to reflect on your personal and professional experiences – have you noticed or encountered any social justice issues in language education and what are they? Renée Heywood's article explores a series of racial trauma experiences of BIPOC (Blacks, Indigenous and People of Colour) youth in the USA. Due to the White-centred linguistic hegemony and European-centred linguistic hierarchy, it was difficult for BIPOC to appreciate and legitimise their native languages and accents in educational settings. She emphasised that educators should end the racial trauma and make the schoolhouse a safe and warm space for linguistic flexibility and diversity.
Moving from the school places to an essential learning artifact – coursebooks, Grit Alter's article reports a mixed-method study on four ELF coursebooks for 8th-grade students Germany. In this study, she critically examined the visual representations of USA society in four types of coursebooks to reveal how far the social (in)justice concerning race and ability have been circulated in those textbooks. Therefore, "nothing just-is" that calls for critical pedagogy, enabling the teachers and students to challenge those hidden stereotypes and discriminations presented in these coursebooks and to unfold everyone's full potential.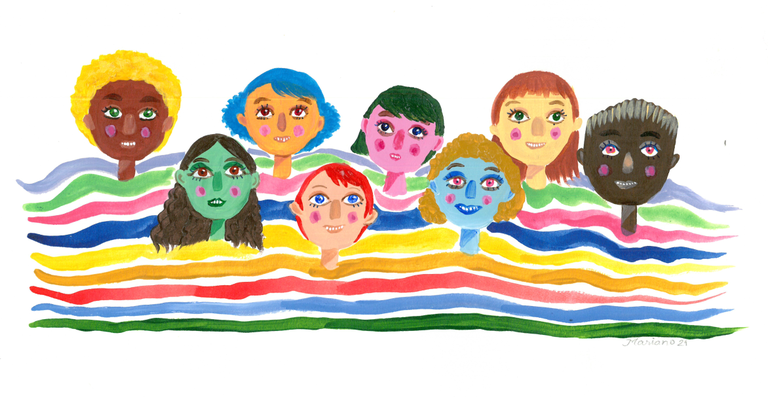 Picture: Luciana Mariano (2021). All together.
On the other hand, learning materials focusing on multilingual pedagogy are not always available. Larissa Aksinovits and Pipsa Airto introduce novice ideas and learning materials for this purpose. In their pilot project, the pupils had diverse native linguistic backgrounds unlike regular native language groups. To cope with that, the teachers employed culturally and linguistically responsive approaches to integrate and help multilingual pupils' learning of their native languages in the same classroom. This article provides a brief overview of native language education in Finland and first-hand experiences as well as reflections on the implementation of multilingual pedagogy from the teachers' perspective. Finally, embracing the concept of multilingualism, this article also includes an abstract in Estonian.
As mentioned above, Finland has become more ethnically and linguistically diverse in nearly three decades, which drives educators to ponder how to adapt and embrace this growing trend of multilingualism. With the concept of multilingual pedagogy, Jenni Alisaari's article (in Finnish) explores different ways to implement multilingual pedagogy with learners of different ages. Also, the author presents the goals and background ideas of multilingual pedagogy. The aim of this article is also to provide ideas and practical tools for using multilingual pedagogy in settings from elementary school to teacher education.
The third sector, like non-governmental organisations (NGOs), is a significant partner in many educational institutions. Piia Cordoba's article (in Finnish) shares insight that NGO, which works with migrants in Finland, co-operated with University of Jyväskylä's teacher trainees from the Language Aware Multilingual Pedagogy (LAMP) programme. The collaboration benefitted both, the university, which entailed teacher students' skills of multicultural encounters and support, and the NGO, which got new people to participate in its everyday work.
Drawings are a powerful tool to visualise language ideologies. Heidi Niemelä's article (in Finnish) explores drawings on 'Finnish language' created by primary school pupils and teacher trainees. Through analysing these visual creations, she discovers the various connections between language, nationality, and nations from the participants' perspectives. Language is also connected to people and, as speaking bubbles show, used for communication. What kind of drawing would you make if you were asked to draw about your language(s)?
Who has access to higher education? In this article (in Finnish), Aija Virtanen, Nina Reiman and Tuija Lehtonen focus on to what extent the current policies and practices in Finnish higher education promote proper development opportunities for migrant students. Unfortunately, at the moment, it is not very reachable in Finland to many with migrant backgrounds to obtain good guidance and to get a place from a degree program to supplement one's studies in a university. They also discussed what educators and policymakers could do for promoting equity in this education transition and integration of prospective migrant students.
Nina Sivunen and Petra Juva, their article (in Finnish) draws our attention to deaf adult migrant students in the Finnish integration training. Deaf migrant students have faced multiple challenges to integrate into Finnish society, particularly learning two new languages: Finnish sign language and Finnish. The authors describe the students' diverse backgrounds, their various starting points in terms of studying, and the importance of integration in a sign language community. Moreover, they emphasise that support and guidance at all stages of the integration path is a prerequisite for successful integration. Finally, the authors point out that receiving adequate education is not always available for all deaf migrants in Finland.
In the last article (in Finnish), Karoliina Inha, Satu Honkala, Katri Kuukka and Paula Mattila describe the current situation in which democracy erodes when constructive interaction is not fostered. In a world of hate speech and fake news, it is important for schools to have the tools for constructive interaction, an important skill to promote democracy in education. The concepts of language awareness and mediation introduced in policy documents related to education, are considered useful for supporting constructive interaction. Finally, the authors suggest the word "siltauttaminen", in other words "bridging", as a possible translation of the word "mediation" in Finnish, in order to successfully encompass the complexity of the term and to get it into everyday use in schools.
Finally, we would also like to draw your attention to the artwork presented at the 2021 LESJ conference. Particularly, the work of Luciana Mariano, was featured prominently at the conference. New pieces of her work are also included in this theme issue. Jalil Jafari, a young Afghan artist, also presented his exhibition "Murtuneesta maasta – From the broken land" at the conference, in which he describes the life of the Hazara minority and the education and equality issues of Afghan girls. The topic is painfully current, and the virtual gallery is open to everyone.
We wish that you will find the articles relevant to your professional needs and that they will initiate an open discussion among various stakeholders such as students, educators, academia and policy makers in order to promote social justice.
Paiwei Qin is a doctoral researcher at Centre for Applied Language Studies, University of Jyväskylä.
Magdalini Liontou is a doctoral researcher at Centre for Applied Language Studies (University of Jyväskylä) and she is also working as a university teacher at the Languages and Communication Unit (University of Oulu).
Paiwei Qin and Magdalini Liontou are guest-editors of the theme issue Language Education for Social Justice with Tanja Seppälä and Sari Pöyhönen.